A Taste of New York Pizzeria
Dine in. Pick up. Delivery.

We take pride in using the finest and freshest ingredients for every menu item. Each pizza is made to order, with homemade sauce and hand-tossed dough. We keep plenty of craft beers on tap for a perfect pairing.
Location
1385 E Vista Way
Vista, CA 92084
Hours
Sunday-Thursday: 11am-9pm
Friday-Saturday: 11am-10pm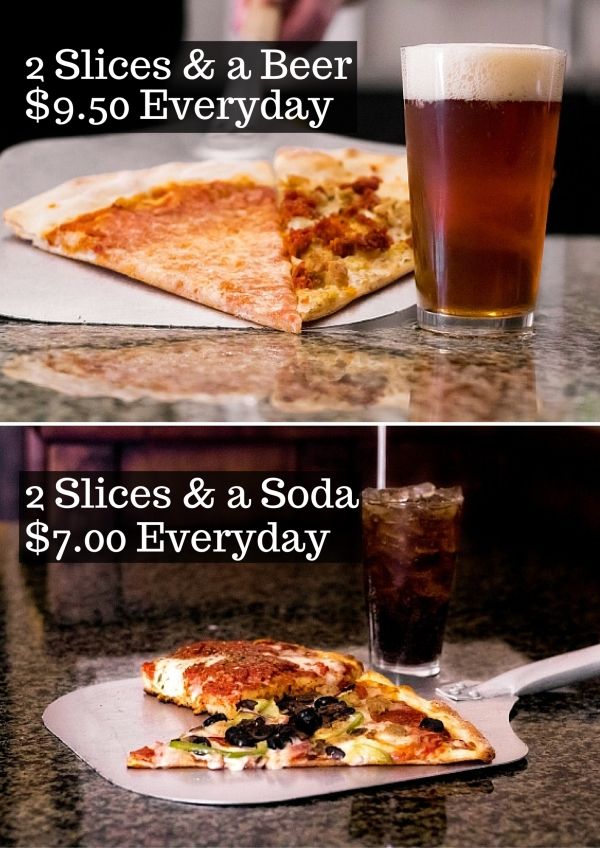 Stay in the Know!
Up to 6 msgs/mo. Reply STOP to cancel, HELP for help. Msg & data rates may apply. View Terms & Conditions
Cheese 18" $15.50
ADDITIONAL TOPPINGS ADD $2.25
Cheese 28" $24.99
ADDITIONAL TOPPINGS ADD $4.25
Pepperoni, Sausage, Meatball, Black Olives, Green Peppers, Roasted Red Peppers, Onion, Mushroom, Spinach, Pesto, Garlic, Chicken, Artichoke, Anchovies, Ham, Pineapple, Jalapeno
The New Yorker (Sicilian) $21.95
Oregano, Cheese, Sauce, Parmesan (thicker crust served in a square pan)
Queens (White) $18.95
Mozzarella, Ricotta, Parmesan, Fresh Spinach, Garlic
Manhattan $20.95
Pepperoni, Sausage, Meatball
Brooklyn Deluxe $21.95
Pepperoni, Sausage, Mushroom, Black Olives, Green Peppers, Onion
Mill Basin Veggie $21.95
Tomato, Black Olives, Green Peppers, Mushroom, Onion, Garlic
Staten Island Veggie $21.95
Spinach, Roasted Red Peppers, Mushroom, Onion, Garlic
The Bronx (White) $19.50
Mozzarella, Artichoke, Eggplant, Sun Dried Tomato Pesto
Buffalo Chicken $24.95
Franks Red Hot Sauce, Chicken, Red Onions, Ranch Dressing
Queens Special $21.95
Spinach, Pepperoni, Mushrooms, Ricotta Cheese
BBQ Chicken $24.95
Barbeque Sauce, Chicken, Red Onions, Ranch Dressing
Stuffed Meat $25.95
Mozzarella, Pepperoni, Sausage, Meatball w/Marinara Sauce
Flatbush $17.95
Mozzarella, Tomato, Basil, Garlic
Pastrami Pizza $24.95
Mustard, Pickles, Pastrami
Lasagna Pizza $24.95
Fresh Ground Beef, Sausage, Ricotta, Marinara Sauce
Baked Ziti Pizza $25.95
Ziti Pasta Tossed with Marinara Sauce, Ricotta, Mozzarella, Parmesan
Cheese $2.50
All Others $3.00
2 Slices & A Soda $7.00
2 Slices & 1 Beer $9.50
Garlic Knots 3 for $2.50 or 6 for $4.00
Mozzarella Sticks 6 for $6.95

Buffalo Wings 6 for $6.95
Calzone $8.95
ADDITIONAL TOPPINGS $0.75
Mozzarella, Ricotta, Parmesan (Baked or Fried)
Large Baked Calzone $18.95
ADDITIONAL TOPPINGS $2.25
Garlic Cheese Bread $3.95
House Salad $4.95
Lettuce, Tomato, Cucumber, Croutons w/Choice of Dressing
Caesar Salad $5.95
Add blackened chicken for $3.50
Romaine, Parmesan, Croutons
Antipasto Salad $9.95
Lettuce, Tomato, Cucumber, Giardiniera, Ham, Salami, Provolone, Mushroom, Olives, Italian Dressing
Spaghetti with Marinara Sauce $6.95
Add Meatballs for $3.50
Baked Ziti $8.95
Penne w/Mozzarella, Ricotta, Marinara Sauce
Ravioli $7.95
Cheese w/Marinara
Lasagna $9.95
Blend of Beef, Pork, and Cheese
Eggplant Parmigiana w/Spaghetti $10.95
Chicken Parmigiana w/Spaghetti $11.95
LUNCH SPECIALS
11am-4pm everyday
(SERVED WITH A SMALL HOUSE SALAD)
Spaghetti $7.00
w/1 Meatball or 1 Sausage
Baked Ziti $7.00
Cheese Ravioli $7.00
Lasagna $7.00
Eggplant Parmigiana w/Spaghetti $7.00
Chicken Parmigiana w/Spaghetti $7.00
Torpedo $8.95
Ham, Salami, Provolone, Mayo, Lettuce, Tomato & Italian Dressing
Meatball Parmigiana $8.95
Sausage Parmigiana $8.95
Chicken Parmigiana $9.95
Eggplant Parmigiana $8.95
Blackened Chicken (Cajun Style) $9.95
Mayo, Lettuce, Tomato
Veggie $7.95
Mozzarella, Peppers, Onion, Tomato, Mushrooms, Spinach
Chicken Parmigiana $7.95
Mozzarella, Chicken, Marinara Sauce
Stromboli $7.95
Mozzarella, Ham, Salami, Pepperoni
Sausage $7.95
Mozzarella, Peppers, Onion
Buffalo Chicken $7.95
Franks Red Hot Sauce, Chicken, Red Onions, Ranch Dressing
Pastrami $7.95
Mustard, Pickles, Pastrami
Barbeque Chicken $7.95
Barbeque Sauce, Chicken, Red Onions, Ranch Dressing